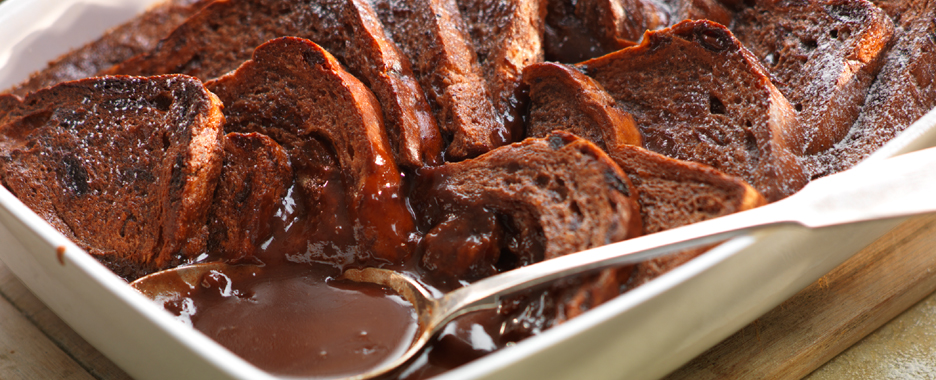 INGREDIENTS

10 slices

of bread or fruit loaf

150 g

Cadbury Dairy Milk broken into pieces

60 g

butter

425 ml

whipping cream

75 g

caster sugar

3 medium

eggs

25 g

Cadbury Bournville Cocoa
TIME
PREP TIME 15 min
COOK TIME 45 min
METHOD
1

Lightly butter an ovenproof dish of about 2 litres capacity. Cut the bread or fruit loaf slices into halves or quarters depending on their size to fit the dish.

2

Melt the chocolate, cream, sugar and butter together in a bowl over a saucepan of simmering water.

3

Whisk the eggs until light. Add the chocolate mixture and cocoa and whisk together well. Spoon about a third the chocolate sauce into the base of the oven proof dish and arrange the bread on top. Spoon the remaining sauce over all the bread.

4

Cover the dish with cling film and allow the pudding to stand for 1-2 hours to let the bread absorb the chocolate sauce.

5

When ready to cook the pudding preheat the oven to 180 ⁰C, gas mark 4 and bake for about 30 minutes or until the top is crunchy but the inside soft and saucy.
% of your Guideline Daily Amount (GDA). To be enjoyed as part of a healthy, active lifestyle.

TYPICAL VALUES PER SERVING
Treat your inbox
Want to know about all the latest goodies from Cadbury? Sign up and you'll be the first to hear about exclusive offers, new delicious chocolate treats, gifts and more.
Sign up