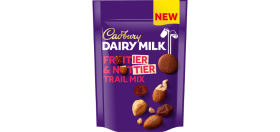 Cadbury Dairy Milk Fruitier & Nuttier Trail Mix, 100g
Vegetarian Chocolate
A delicious mix of whole almonds, dried grapes, whole hazelnuts, dried cranberries and Cadbury Dairy Milk chocolate buttons, all coated in a sweet cocoa dusting. Made with sustainably sourced cocoa. Vegetarian friendly.
Roasted ALMONDS, MILK**, dried grapes, roasted HAZELNUTS, sugar, cranberries (5 %), cocoa mass, cocoa butter, vegetable fats (palm, shea), cocoa powder (0.6 %), emulsifier (E442), flavourings.

Per 25g

6.3%

6.3%

6.0%

3.6%

11.6%

8.3%

6.5%

9.6%

% of your Guideline Daily Amount (GDA). To be enjoyed as part of a healthy, active lifestyle.
NOTE:- Our policy of continuous improvement may result in product changes, we therefore recommend that consumers always check the packaging prior to consumption for the most up-to-date information
Recipes
DELICIOUS CADBURY CHOCOLATE RECIPES
Get creative in the kitchen with your favourite Cadbury chocolates
DISCOVER CHOCOLATE RECIPES
@CadburyUK Stories
We love it when you share a Cadbury moment! Follow us on Instagram to share your Cadbury stories and see what we're up to!
Treat your inbox
Want to know about all the latest goodies from Cadbury? Sign up and you'll be the first to hear about exclusive offers, new delicious chocolate treats, gifts and more.
Sign up